Yesterday, I described this book in one word: beautiful. And the more and more I think about it, I'm happy with my choice of word.
ONE DAY is the first adult novel I've read outside of school-required reading (lies! Besides Agatha Christie, okay? The first novel outside of Christies' murder mysteries), and I have to say that this story captivated me in a wonderful way. It provided, first and foremost, an incredible story about two people who could've lived without each other but chose not to and ended up having years and years of friendship, missed opportunities, and surprising bouts of ups and downs all throughout. But this book also gave the most unique perspective for a story that I can think of off the top of my head--- the way we get to peek into this relationship on July 15th of every year challenged me, as the reader, to fill in the gaps, forced me to become caught up in the present, and made me want to see the future even though! in doing so, another year of their lives will have been cast away as soon as I make it to the next chapter.
It's this weird thing--- this really weird thing--- that happens to me when I read this book. For some reason, I start going crazy or something, and I feel like I'm aging with Emma and Dexter as the story progresses. And, in a way, it helps me identify with the characters more, but in another way it freaks me the heck out. I'm sitting here, reading a piece of fiction, thinking it's doing some Dorian Gray voodoo and actually being okay with that.
Because I don't know about you, but I like experiencing the books I read. I like feeling like their lives are relevant to me somehow... I like feeling like I can relate to the character's struggles and I like thinking that there is a chance I could run into them somehow--- know them somehow and I like actually feeling connected to their lives and falling into step with how the story's told. David Nicholls makes me... I don't know how to explain it really. But as I read this book I thought of my future, of how it would be for me the day after I graduated and ten, fifteen years after that. And yeah. At first it was scary to think about. But, to me, ONE DAY is about more than Dex and Em's relationship; it's about finding your place in the world, "changing the bit around you," dealing with life as it happens, and not being afraid to live while you can.
I loved Dexter and Emma so much. Emma, especially, was a phenomenal, well-crafted character. I enjoyed her wit, her taste in books and her persona. She may have had multiple internal struggles throughout the course of the story, but there was something constant about that that made her feel very real to me, very alive. And Dexter. Oh, Dex. He goes through it throughout this story and there are moments when it felt like there was growth and change... What I love about his character is that, unlike Em, he was not stable, he did not have a constant state of being. But he was always sure of himself. He never really worried about how he was going to get through to tomorrow even though he's been given the short end of the stick in this novel and exhibits the kind of reckless behavior of a person you'd think is constantly thinking about that sort of thing. The two together, though, have a different dynamic than they have apart adding this other layer of masterful storytelling on David Nicholls' part. As you read, you can see it; they really are better together. And you're waiting and wishing and hoping and praying that they will realize it, too.
The ending was perfect. Perfect for this story, I mean. And I love when an author can say something without expressly saying it. I can say without spoilers that the ending was the perfect send-off for Dex and Em. It was whole... complete. I feel like I have properly said farewell to the two and it was through the author's words. He's an amazing storyteller that David Nicholls.
I highly recommend this novel to those who love adult fiction and are looking for something good to read, and also to "new adults" who aren't too sure about adult fiction and are looking for something to introduce them to the genre. There're drugs, and there's alcohol, there's sensuality, and there's cursing and mature language. But this is nothing you haven't seen or heard of before and it's never graphic or uncalled for in the text. So please, if you're looking for a "beautiful," rewarding story to get you through the week, your vacation, and something you can treasure for the rest of your life, pick up a copy of ONE DAY. I have no doubt that you'll love it as much as I did.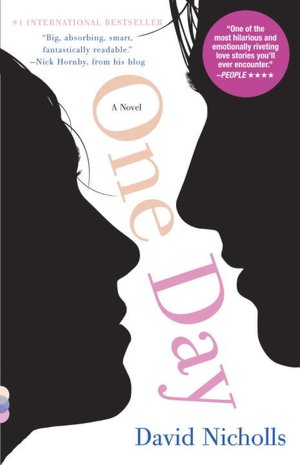 Blurb from Goodreads:
It's 1988 and Dexter Mayhew and Emma Morley have only just met. But after only one day together, they cannot stop thinking about one another. Over twenty years, snapshots of that relationship are revealed on the same day—July 15th—of each year. Dex and Em face squabbles and fights, hopes and missed opportunities, laughter and tears. And as the true meaning of this one crucial day is revealed, they must come to grips with the nature of love and life itself.
Want more David Nicholls?