This book changed my life.
Okay. Not my
entire
life. But the part of me that was tired of reading books.
Yeah. I said it. I was tired of reading books. And I didn't for the longest while but then, MAGIC... THE FAULT IN OUR STARS.
This book---
this book,
you guys--- has instantly become one of my favorites. It's because of this book that I decided to pick up another book, and then another. It's because of this book that I wanted to start My Ticket Elsewhere up again as a book blog...
THE FAULT IN OUR STARS, essentially, is about a girl named Hazel who meets a boy named Augustus. And from the start we know Augustus likes Hazel, but here's the crux: she's dying of cancer.
You wouldn't know this girl was a "grenade" unless you saw her. Because her lungs literally "suck at being lungs," she has to wheel around an oxygen tank by day, and use a respirator to help her breathe by night. But
he
doesn't see the oxygen tank, or the tubes up her nose, or the chubbiness in her cheeks... Augustus sees Natalie Portman from
V for Vendetta
. Is it any wonder why I'm in love with this guy, ya'll?
Hazel's to-the-point, slightly sarcastic attitude meshes well with Augustus' sarcastic, but slightly care-free one. To him, life is "grand;" to her, life is death's waiting room. And it's this constant back-and-forth between the two of them--- between the good days, and the bad ones--- that reflects in their personalities. Hazel's not pessimistic, she's
realistic
, and she knows that one day (and maybe one day, soon) she is going to die and he is going to die and for a majority of the book this thought stands as an elephant in the room because, as the readers, we know it's true.
We want Hazel and Augustus to end up together. To have a happily ever after. To live in remission for years and years and years. But we know it's not going to happen. She is very, very sick. And though she's not bedridden (YET), the thought kind of creeps in... Maybe she's right. Maybe it IS better to be a grenade all on your own, so the people you love don't get hurt when you inevitably do what grenades do (i.e. explode--- a metaphor for
when
she dies. She's quite intent on making this clear).
But although THE FAULT IN OUR STARS focuses on life and death and what it means to be somewhere in between, what it really shows you is that, despite Hazel's best efforts to deny it, she becomes hopeful again. This book, ya'll, is filled with hope.
When she meets Augustus her whole world changes, and I have to say, mine did, too. She always saw the world, but was never really a part of it, and Gus changes that--- he brings her friendship, and he brings her love, he shows her happiness, and sadness, and he literally shows her the world. And, you know, if you read this far, you must be wondering why I want you to read the darned thing. The reason I'm so pushy about you reading this story is because I have never been so humbled by a book before in my life since reading the Bible (which is the only book I own that humbles me every single day).
You want to know life? Read about this girl who only knows the brink of death. You want to know death? Read about this girl, fighting for her life! You want to know romance? Read about a boy who is the hottest thing to walk the Earth since Heath Ledger, prosthetic leg and all. You want to know love? Read about the friends, and the family, and the friends of the family that care for these two characters and you want to feel something? Read this story about a life outside of your own--- this fictional life that some man who talks to his brother via video created in his spare time--- and tell me you don't feel
everything
. Tell me I'm imagining the wealth of awesome this book successfully explores, and tell me that you, upon reading it, did not enjoy it.
You will laugh. You may cry. And that's okay, you know? It really is. Because, essentially, if you laugh, it's because you related, and if you cry, it's because you understood. There is more to life than me, than you... This book? It makes you see that.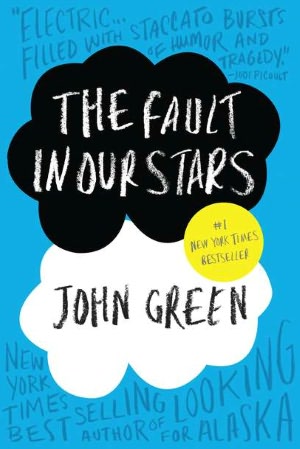 Blurb from Goodreads:
Diagnosed with Stage IV thyroid cancer at 12, Hazel was prepared to die until, at 14, a medical miracle shrunk the tumors in her lungs... for now.
Two years post-miracle, sixteen-year-old Hazel is post-everything else, too; post-high school, post-friends and post-normalcy. And even though she could live for a long time (whatever that means), Hazel lives tethered to an oxygen tank, the tumours tenuously kept at bay with a constant chemical assault.
Enter Augustus Waters. A match made at cancer kid support group, Augustus is gorgeous, in remission, and shockingly to her, interested in Hazel. Being with Augustus is both an unexpected destination and a long-needed journey, pushing Hazel to re-examine how sickness and health, life and death, will define her and the legacy that everyone leaves behind.
Want more John Green? Click one.