Hello, Elsewhere! I promise to be brief.
This week and next week I have all day training sessions on Saturdays so if these are posted a little late, you'll know why. But then again, what is late? I figure, if it's up on Saturday, that's right on time. Do you know what I mean? Of course you don't know what I mean, what am I even
saying
to begin with?!
FIRST, as always, I want to present you with a giveaway opportunity. If you haven't been to your local bookstore in a while, you're missing out because there's a plethora of BEAUTIFUL books that are hitting the shelves. And among them is one called
CHOPSTICKS
and you're in luck! because there's
a giveaway over at Confessions of a Bookaholic
for JUST THE THING!
NOW, I must point you in the direction of
Mundie Moms' 5 star review
that has convinced me to read
GRAVE MERCY
on Elsewhere! That's right, ya'll. Get ready for May because I've got a bunch of great titles lined up. But there is no rule against getting a head start! GRAVE MERCY is in stores now, and guess what? It sounds GOOD. And if you're coming down off your OUT OF SIGHT, OUT OF TIME high, this might be the best news you've heard in days because it's about NUN ASSASSINS (okay, not really, but KINDA). Check it out, yo!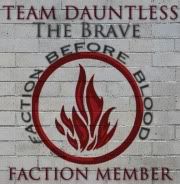 FINALLY (see, I told you! Brief!) for those of you who are HA-UGE fans of Veronica Roth's
DIVERGENT
, have I got news for you. There's this really cool site called
Divergent Nation
that's gearing people up for the May 1st release of its sequel:
INSURGENT
. If any of you are
#TeamDauntless
, you should head over there and check out some of the blogs that are supporting this faction. Can you believe the release is less than a month away? I can't and I'm not even part of the fan-base, yet! But I will be. Soon. Berry, berry soon. I hope. :)
And that's it for this Saturday! What were some of the awesome sights YOU'VE seen this week? Don't forget that this upcoming week we'll be celebrating
Sang Kromah
's very cool debut
CONCEALED
and you are MORE THAN ENCOURAGED to participate in the celebration! You can start submitting your
Wednesday Wanderings
to myticketsomewhere@gmail.com from now all the way through Tuesday, and you should start thinking about creative ways to spread the word! Also, if you don't think CONCEALED is going to be your kinda story (which *ahem!* is going to be nearly impossible since it's pretty much "everybody's" kind of book), you can still hang with us by reading either
TEXAS GOTHIC
or
THE SECOND SUMMER OF THE SISTERHOOD
.
Now seriously. That's it. Have a wonderful weekend, Everyone, and get your geek on!
Later!
Deserae